ERICON broker GmbH, a private limited company, was founded late 2011 by Richard Connolly, the sole Share Holder and Managing Director of an independent insurance broker and financial consultancy.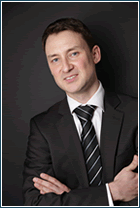 Richard has been in the insurance branch for more than a decade, starting his career at a well-known BFG & NATO insurance agency, where he resigned his position as Area Manager in April 2010 to join Allianz Germany.
"Allianz was a great opportunity, offering many doors to be opened and surely would have lead to a great career. I however felt that even though I had full support from one of the largest insurance companies in the world every client needs to be given the whole range of products and providers, hence only then would I feel satisfied in what I do."
Parallel to his day-to-day job Richard constantly strives to develop further and can proudly prove completing an Industrial Management study and just a few years later graduated as a Bachelor Professional (CCI) of Insurance. In addition Richard has been put to the acid by the Chamber of Industry and Commerce in Cologne, allowing him to educate apprentices the trade Specialist for Insurance and Finance.
A trait of Richard's character is that he knows the importance of man-power and their well-being. For this reason and from beginning he put his company's and staff interests before his own.